The NOVA Defender Gate™ 20 stands 42″ tall and has the same compact footprint as the DG10, plus the addition of a heavy-duty double panel design for added safety. The DG20 is ideal for use at loading docks, pits or vats. Its lower bottom rung meets the OSHA 21″ mid-rail requirement and the DG20 meets and exceeds OSHA standards for fall protection.
FEATURES AND BENEFITS
Meets and exceeds OSHA guidelines for fall protection
Easy to operate with minimal effort
We offer custom sizes and configurations
Lockable latch (lock included)
Positive stop holds gate open without using moving parts
Safety Guard attachments and electronic interlock options available
Powder coated yellow at 42″ in height
Superior Personnel Protection
Requires little to no maintenance
Made in USA
---
DEFENDER GATE™ 20 WITH SAFETY GUARD
NOVA offers a Safety Guard attachment for the DG20 that adds a barrier above, between, and below the rails of the gate. The Safety Guard attachments reach 72″ high and extend to 6″ above the floor for overhead and crawl-through protection. With the addition of the Safety Guard, the DG20 protects elevated equipment, restricts access to dangerous areas, and stops personnel or materials from falling off ledges.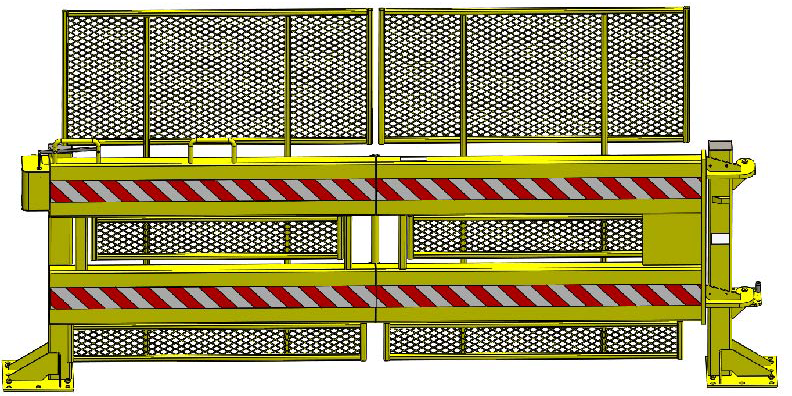 ---
---
CUSTOM SIZES & CONFIGURATIONS AVAILABLE
---
THE DEFENDER LINE:  SAFETY BARRIERS AND LOADING DOCK PRODUCTS
---
LOADING DOCK SAFETY BARRIERS:  EXTREME STRENGTH
Nova Technology has taken the concepts behind common loading dock barriers made with static materials such as metal guard arms, chains, and screens, and improved upon them in every way. The Defender Gate™ safety barriers provide extreme protection unlike dock safety chains and PVC arms which provide little to no protection. Our barrier gates are man made in the USA with an all steel construction. We remain unmatched when it comes to strength, quality and customer service.
Combine all of this with the ease of our one man install and you have a safety barrier system that offers more protection, takes less damage, thus requires zero maintenance, and is as easy to install as it is to purchase.
.