DEFENDER GATE™ 20
The NOVA Defender Gate™ 20 stands 42-inches high and has the same compact footprint as the DG10, plus the addition of a heavy-duty double panel design for added safety. The DG20 is ideal for use at loading docks, pits or vats. Its lower bottom rung meets the OSHA 21-inch mid-rail requirement and the DG20 meets OSHA standards for fall protection.
---
DEFENDER GATE™ 20 WITH SAFETY GUARD
NOVA offers a Safety Guard attachment for the DG20 that adds a barrier above, between, and below the rails of the gate. The Safety Guard attachments reach 72-inches high and extend to 6-inches above the floor for overhead and crawl-through protection. With the addition of the Safety Guard, the DG20 protects elevated equipment, restricts access to dangerous areas, and stops personnel or materials from falling off ledges.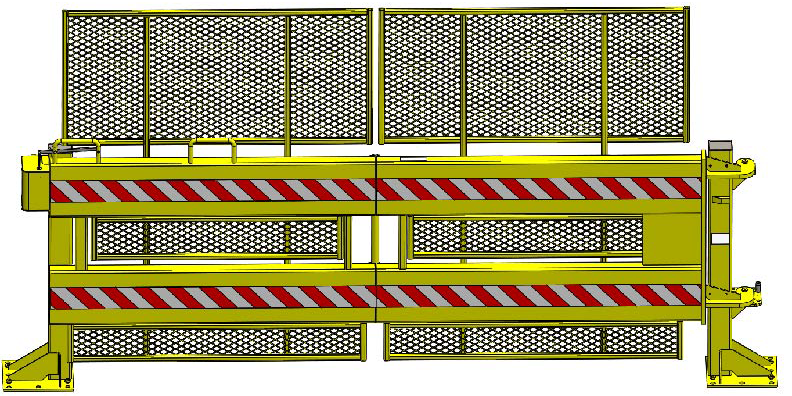 ---
FEATURES AND BENEFITS
Meets OSHA guidelines for fall protection
Easy to operate with minimal effort
Custom sizes and configurations available
Ships in just three pieces (all hardware included)
Lockable latch (lock not included)
Positive stop holds gate open without using moving parts
Safety Guard attachments and electronic interlock options available
Made in USA
OPERATION
The NOVA Defender Gate™ 20 safety barrier is a manually operated gate that effortlessly folds in half with easy glide hinges and allows full pass-through clearance with its gate open at 90°. Simply open with the use of the new built-in latch on grab handle for safe and efficient opening and closing.
STRUCTURAL
The bollards are constructed from 4-inch square, 3/16-inch thick A-500 Grade B steel tubing. The tubes are welded to 3/8-inch thick A-36 steel base plates and anchored to the floor with a total of (14) 5/8 × 6-inch long concrete anchor bolts, included. The main center sections of the gate are made from A-500 Grade B rectangular steel tubing, 10 × 3 × 1/8-inches thick, and joined in the middle with a center pin. The entire gate is powder coated safety yellow for optimal visibility and durability.
Based on its engineered design and proven by standardized testing the Defender Gate™ can stop a 13,500-pound forklift traveling at 6.5 mph. To better quantify the impact rating designation and provide a better degree of impact protection the Gate can be rated in terms of total Kinetic Energy absorbed.
The chart below helps understand the effects of various speeds and weights based on the Kinetic Energy absorbed. The Defender Gate™ is engineered to provide effective protection for any combination of vehicle mass and speed in the green shaded area of the chart.
---
---
SAFETY FEATURES
Protects elevated equipment, restricts access to dangerous areas, and stops personnel or materials from falling off ledges
Safety Guard attachments and electronic interlock options available
Latch release on grab handle allows for faster, easier opening and closing
Positive stop holds gate open without using moving parts
Safety Guard attachments reach 72-inches high and extend to 6-inches above the floor for overhead and crawl-through protection
Powder-coated yellow finish with 3M® reflective tape
Top grab handles keep hands away from pinch points